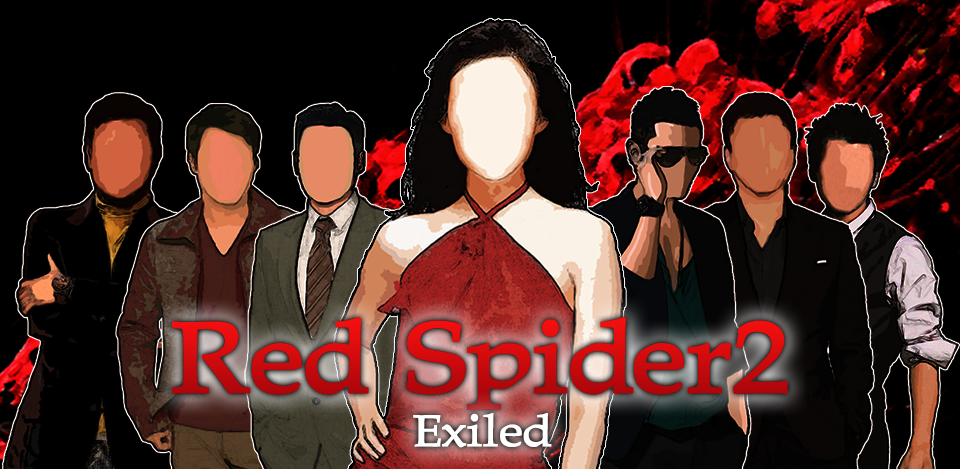 Red Spider2: Exiled
A downloadable game for Windows and macOS
Overview
Red Spider2: Exiled is a Hong Kong noir style visual novel inspired by many hong kong movies, especially Infernal Affairs series and Johnnie To's films.
This is a prequel to Red Spider:Vengeance. There are 6 story routes with the different characters(approximately 200,000 words in total).
Synopsis
Lycoris was allegedly a hostess that worked at the KTV bar, but in reality, she was a member of an assassin syndicate called "the Web".
She was working for Lau Kin Ming, a police inspector, to kill members of underworld mobs.
One day, Lau Kin Ming ordered her to kill his subordinate, Lai, because Lai discovered that he's using an assassin syndicate.
But she refused and killed Lau instead.
As a result, she is currently being pursued by the syndicate and Lai introduced her to Yeung Kwun, the leader of the Red Flower Society, an underworld mob that operated in Kowloon, Hong Kong.
Yeung Kwun sent her to Bangkok to hide her from the Web.
In Bangkok, she happened to see Zhang Lei, her regular customer at KTV bar and also the leader of HH brothers, an underworld mob.
Wolf, Lycoris' childhood friend, accompanied Zhang Lei.
Meanwhile, a probationary inspector, Sam, and a senior constable, Chase, were investigateing the death of Lau Kin Ming.
Looking for evidence of who murdered Lau, Sam found his colleague, Lai, was with a woman from CCTV footage.
Sam suspected that Lai was involved in the murder.
Stories
Wolf route

Lycoris gets acquianted with a few professional killers in Bangkok.
Deu kills people for money to provide for her sick brother.
Ren asks Lycoris, "Us bloodthirsty monsters have to be tied to something, don't you think?"
Wolf is always seeking his own death.
Lycoris felt that assassination is a job as normal as any other, but by their words, she wonders why she kills people.
Zhang Lei route

After Lycoris saved Zhang Lei in Bangkok, she decided to stay in Zhang Lei's house.
Zhang Lei confesses to Wolf that he was deeply involved with Lycoris' personal history.
Oblivious to his involvement in her past, Lycoris' touch alleviates Zhang Lei's loneliness.
Sam route

A probationary inspector, Sam, was aware that the hostess named Lily was involved in murder Lau Kin Ming's murder.
Lycoris approaches Sam to lead the investigation astray.
Meanwhile, Sam's daughter is kidnapped and Lycoris tries to rescue her.
Chase route

Chase, a mole in the police for the HH brothers and a senior constable, helps Lycoris lead the investigation into a dead end.
As Chase gets to know Lycoris better, she causes him to question the circumstance he finds himself in.
Lai route

Some surveillance cameras were mysteriously planted in Lai's room.
Lycoris replaces them with dummy systems and, while staying with Lai, she tries to check who planted them.
While he frequented the KTV bar, Lycoris showed a different side of her personality to him. Seeing Lycoris' true nature, he feels lost.
Francis route

Lycoris' pursuers from the Web found her.
Yeung Kwun negotiated with Chen, an officer from the Web, which lead to Lycoris acting as Francis' assistant until the Web determines a dispute.
This route leads to the events that occur in all of the other routes of the previous game, Red Spider: Vengeance.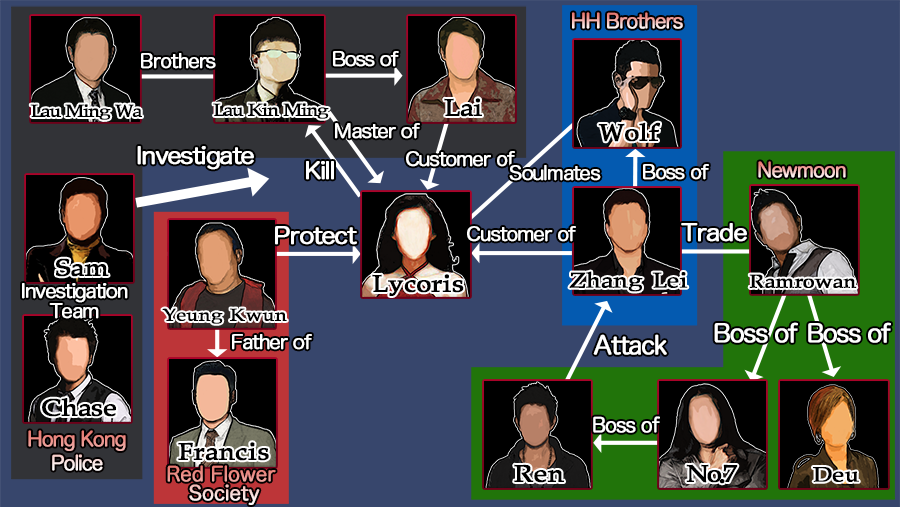 Theme music composer
Yasunori Shiono(the main composer behind the Lufia series)
Yukio Nakajima (behind Puzzles & Dragons and Energy Breaker)
Download
Click download now to get access to the following files:
Also available on